What mineral products should I use?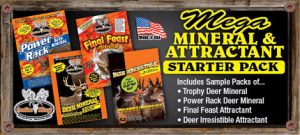 TROPHY DEER MINERAL was our first product 27 years ago, is the #1 selling mineral supplement in America since that time and offers the most complete mineral supplement on the market.  It contains 27 different antler building minerals, vitamins and additives along with a special yeast culture which allows the deer to better utilize and easily absorb the minerals and vitamins. The result is more minerals into antler and body development. Trophy Deer Mineral is available in 20 lb. bags and is best used when poured on the ground near a deer trail. Although we suggest a year round mineral program greatest consumption is from February to September
POWER RACK – Antler King has researched deer nutrition for 27 years and in the past couple of years, research has pointed to the vast importance of certain special trace minerals that will greatly enhance overall health and antler growth. Power Rack Deer Mineral has a special Antler King® flavoring for long range attraction and is loaded with these SPECIAL trace minerals and in the proper proportion to help maximize body and antler growth and help fight off disease like EHD and CWD.  Power Rack Deer Mineral may be used as the sole source of your mineral feeding program or for MAXIMUM ANTLER GROWTH, mix one bag of Power Rack with one bag of Trophy Deer Mineral.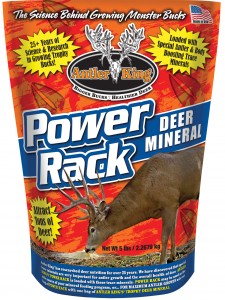 APPLE BURST DEER MINERAL combines extreme long distance attraction with premium nutrition to create a complete mineral supplement that is a "game changer".  With over 25 years of science and research on deer and deer nutrition we brought to market our newest mineral supplement, Apple Burst Deer Mineral.  Apple Burst Deer Mineral offers the intense aroma of apples for long range attraction and the sweet taste of apples for daily consumption that will have deer coming back day after day to fulfill their mineral needs. It contains all the necessary Major minerals and is Mega fortified with specific trace minerals necessary for antler growth and improved overall health.  Apple Burst Mineral is not only an important mineral supplement for deer, but it is a long range attractant that can be used in front of your trail cameras or tree stands to grow 'em big and bring 'em in close.  It can be the sole source of your mineral feeding program or it can be combined with Trophy Deer Mineral for maximum results.