The Leader in Wildlife Nutrition Products
For over 26 years Antler King Trophy Products Inc. has been helping people grow bigger bucks and healthier deer through food plots and feed supplements. Whether you hunt on four acres or 40,000 acres, Antler King products will help you grow bigger bucks and healthier deer.
Testimonials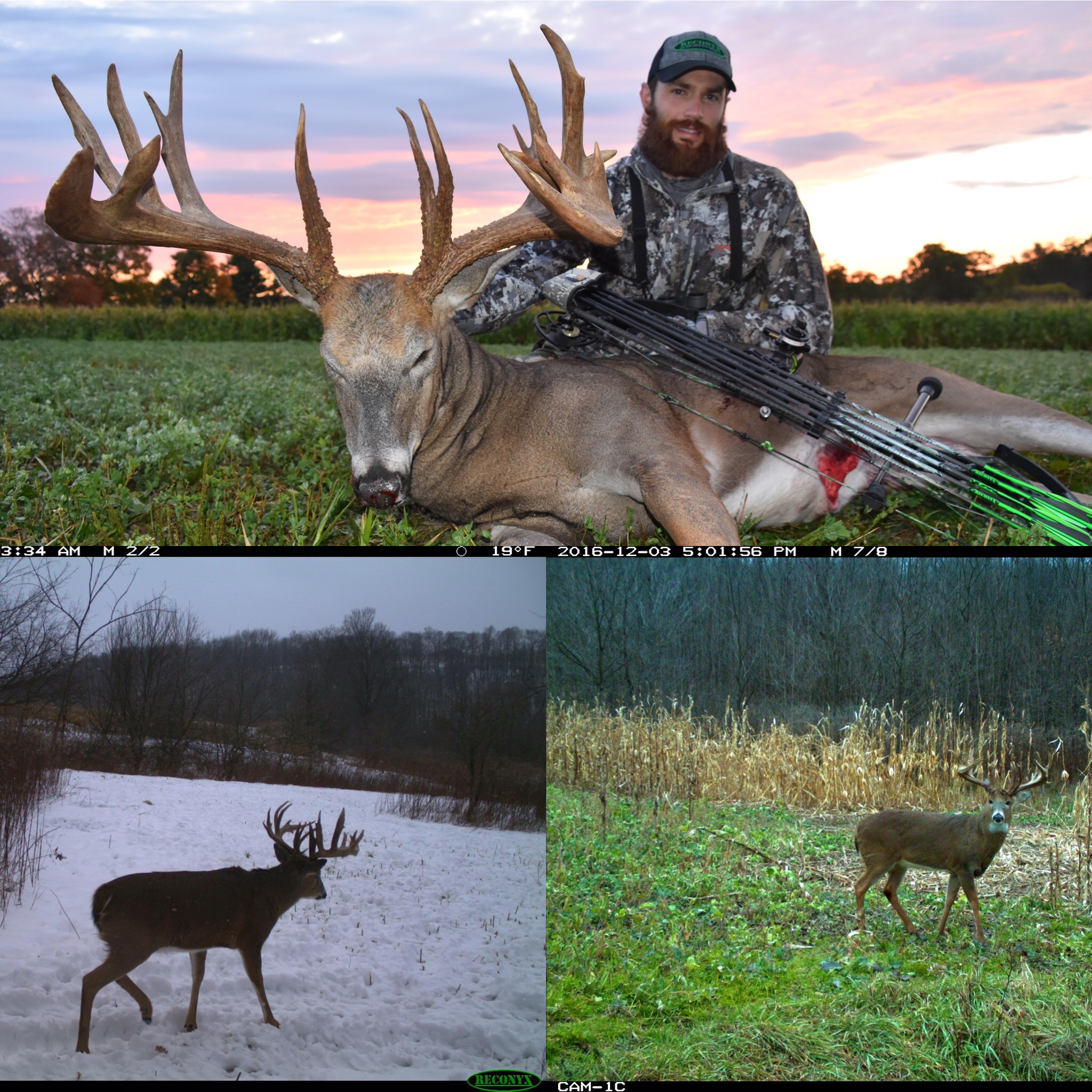 "Here are a couple of pics. I had actually planned on hunting this buck late season, over food, as that was the only time he had any sort of consistent routine. Here are some pictures of him from last winter, over what was left of a Honey Holey plot! (I doubled the size of that plot for this fall!)"
Thomas Mlsna l Wisconsin
Score: 214 2/8″ gross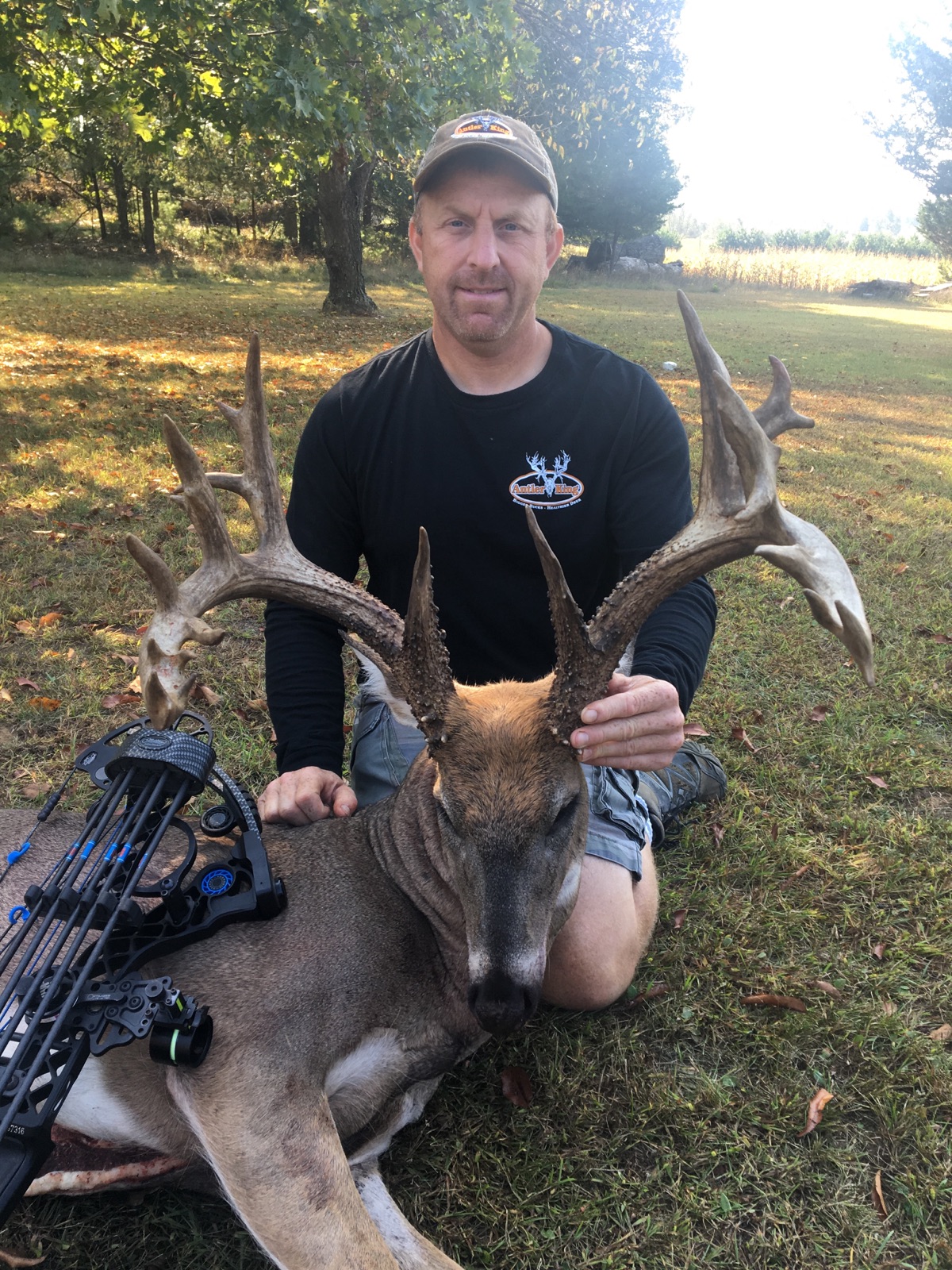 "I planted Honey Hole on a small 20 acre piece this year and was having a few shooters coming through regularly, then this guy showed up 5 weeks ago and all the other ones disappeared. I had this fatty at 15 yards Saturday and Sunday night of opening weekend and didn't have any clear shot because he stayed in the thick woods edge, it seemed he knew something wasn't right. But Sunday the 24th it was 90 degrees and I debated going out to the stand…I'm so glad I went. He came out about 5:30 to feed on the Honey Hole on his normal travel pattern. I arrowed him at 15 yards and he died within 100 yards after the shot. Thank you Antler King."
📷 Jason Benner l Wisconsin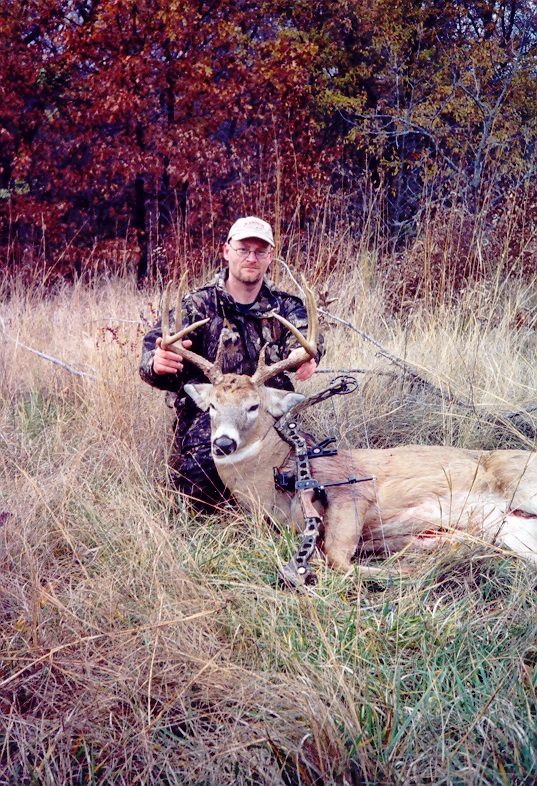 "As a habitat consultant for food-plots-for-deer.com I have worked with clients from Canada to Texas.  If I recommend a product it has to do well or it can hurt my reputation.  I started using Antler King Products in the late 1990's while making habitat improvement videos.  I have tried many brands but I always come back to Antler King because it works."
Joe Bartylla
Whitetail Habitat Biologist l food-plots-for-deer.com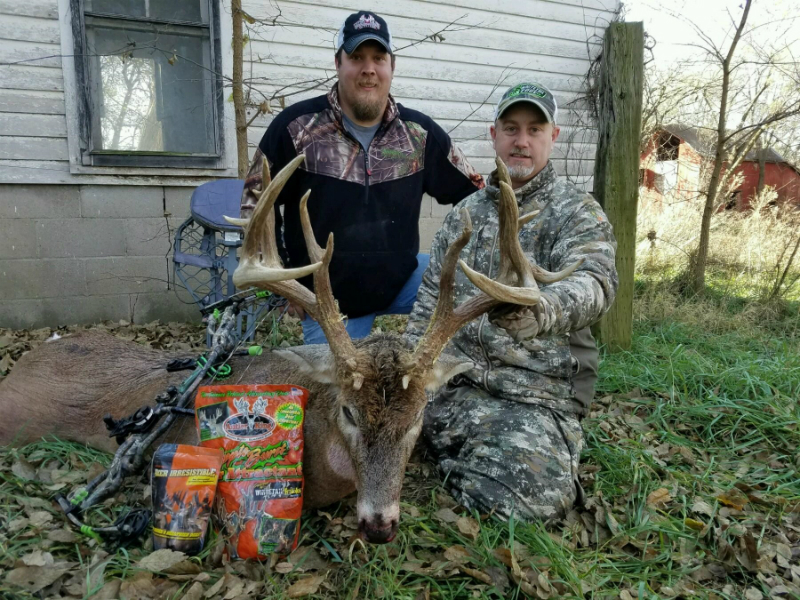 "Antler King products were used by Cedar Ridge Outfitters to help grow and take this 215″ gross buck by Ben Rising of Whitetail Edge….it's been fun to watch Titus blow up this year!"
Travis Lehman – Cedar Ridge Outfitters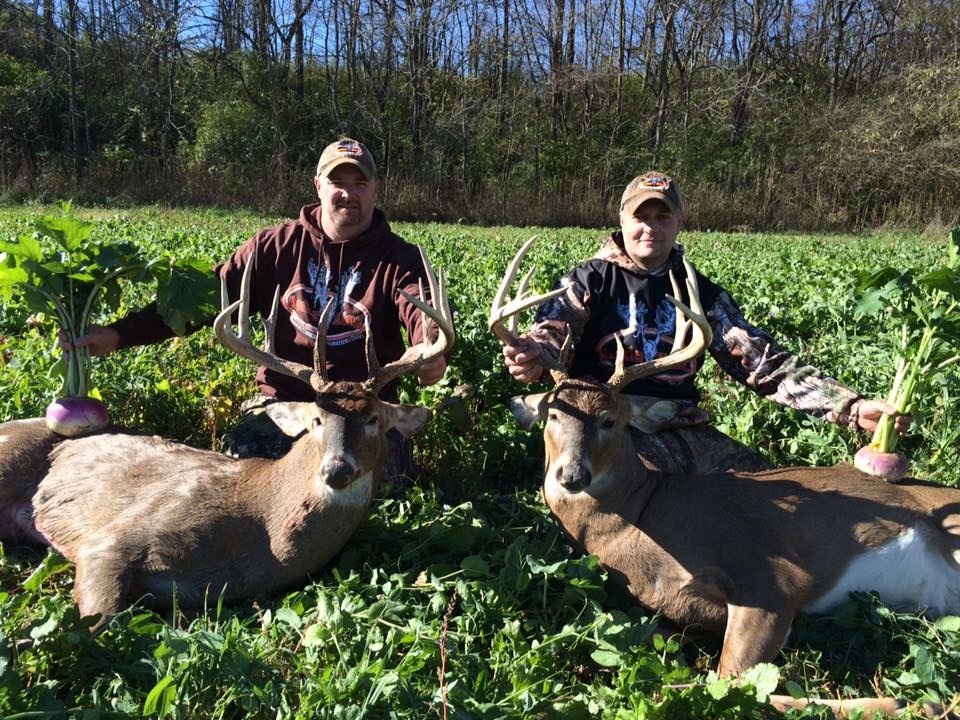 "Great morning in the woods for opening day of Indiana firearm season. My cousin (Eric Seward) and I filled our tags hunting over our Antler King food plots. So important to keep those doe's on your property when the rut hits."
Brett Hankins – Indiana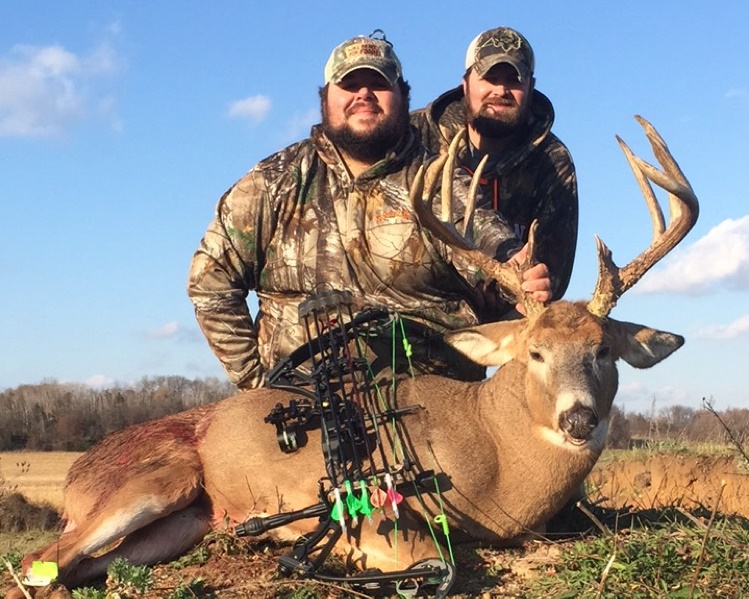 "Been using Antler King Products for years and it really paid off last season when I tagged out on this 175″ Central Wisconsin bruiser…thank you for making a great product!"
Mike Liddle – Wisconsin
"We've been using Antler King for 10 years now with fantastic results.  After capturing this deer and my brother's deer (Hunter) on trail camera at a mineral site in August and October and then harvesting both of them later in the year; it's safe to say we're satisfied with the results."
Gavin – 10 year Antler King Customer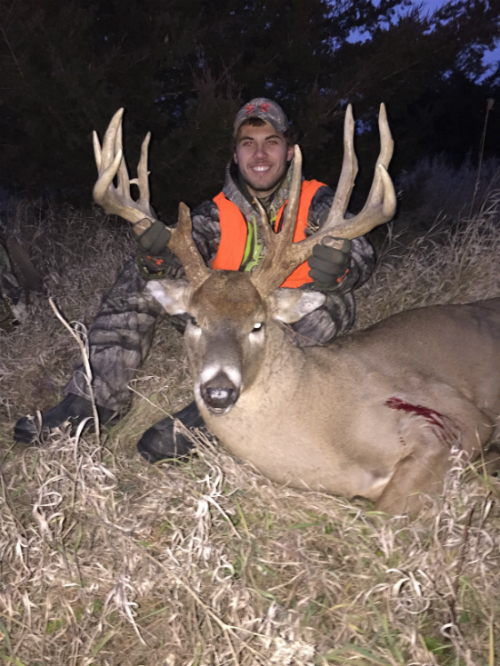 "We've been using Antler King products for 10 years now with fantastic results.  After capturing this deer on trail camera over a mineral site in early August and September then harvesting him later in the year; it's safe to say it was a very successful season." –
Hunter – 10 year Antler King Customer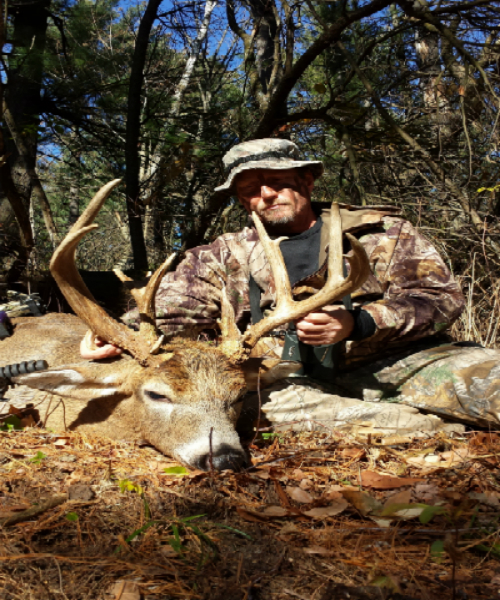 "I've hunted this farm for 35 years and before using Antler King I never would have dreamed to see, much less harvest, a 4 1/2 year old buck with 17 scoreable points grossing 151″.  Needless to say Nov. 1st was a great morning.  Now 140″ and bigger bucks are here every year and I saw such an improvement in the size of my young deer after only 2 years of using Antler King products I decided to become a dealer 5 years ago. Have tried every food plot seed brand from A – Z….but now I'm an ANTLER KING user for life."
Jeff Johnson (WI) – Riverbottom Custom Furniture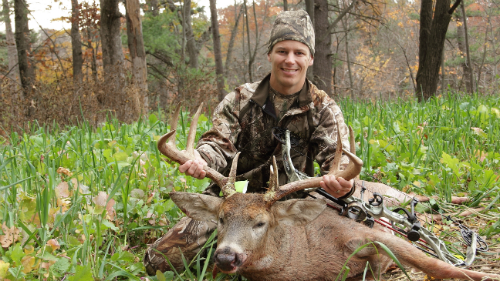 "We have been using using Antler King products on our family farm now for three seasons with GREAT results!  With this season's release of "Lights Out" we were uncertain how Antler King could improve their already superior product line…well, proof was granted!!"
Life Time Customer – Kyle Walker (WI)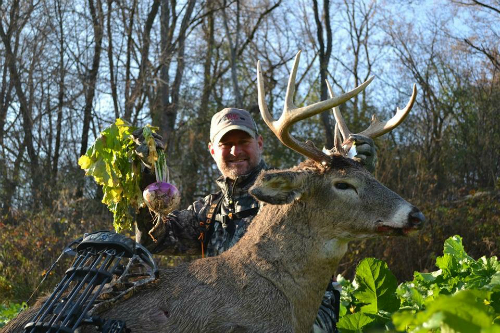 I have been using Antler King Products for 2.5 years now and have been amazed at the number of deer (and big bucks) we are now holding on our properties.  We use Trophy Deer Mineral and the Hi Protein Block all Spring and Summer and have planted several seed mixes; Honey Hole, Slam Dunk and Fall/Winter/Spring.  I know without a doubt these deer will not only come to our farms but they will stay on our property all year long.  Thanks to Antler King for helping me harvest this amazing whitetail!!  I WILL not use anything else on my properties.
Steve Kuney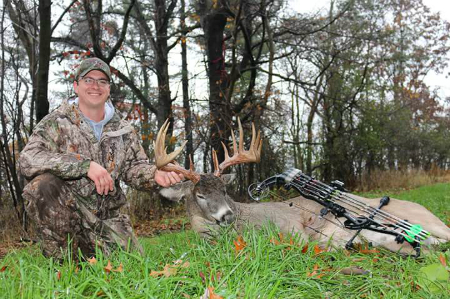 I planted Mini Max and No Sweat in my food plots this year and it has drawn in more deer than any other seed I have used in the past and it keeps them coming back like a magnet! This buck nicknamed Zeus, was in Mini Max all the time!  With the right wind I went to my Mini Max and Zeus showed up on Halloween morning in the pouring rain and I sent an arrow through him at 8 yards. Here is a picture of my largest buck to date grossing 182″!  You can bet I'll be using Antler King from now on!  Thank you Antler King!!
Josh Budworth (Wisconsin)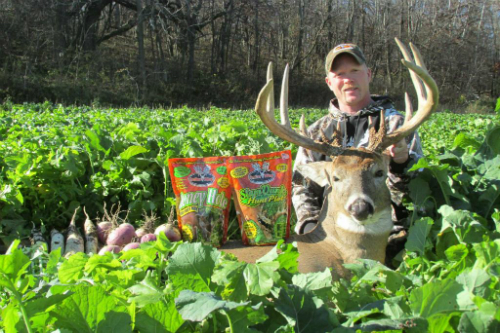 I'll never forget the first time I hunted a 1 acre Slam Dunk Plot.  I took my father in law with, who had never bow hunted before, we saw 22 deer that night come into the plot…it was simply amazing and he was hooked.  I have sold and tried other food plot seeds but Antler King Products have blown the others away. We have had many satisfied clients.
Tim Tibbits – (Tibbits Archery Mineral Point, WI)
This was our first year planting HONEY HOLE.  The rapid growth of plant and foliage was impressive and it was appealing enough to draw in my second largest archery buck, 148″ gross score, over from the neighbor's property.  Cameras on the plot show that there are at least two deer in it 24 hours a day.  I can't wait to see how the deer are going to hit it during the Wisconsin winter.  We're definitely planting it again next year…thanks ANTLER KING!!
Chad Henke – Wisconsin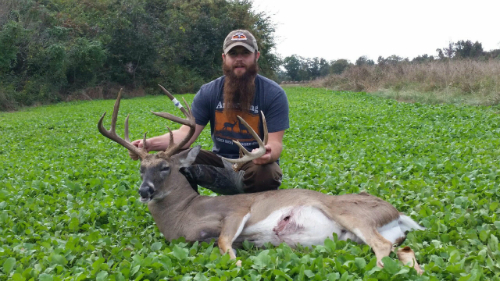 The best minerals and food plot seeds I have ever used…Awesome customer service that is second to none….Honey Hole is one of my favorite plots for killing big deer in late season here in Arkansas!!!!  Keep up the good work Fellas!!!
Stuart Cartwright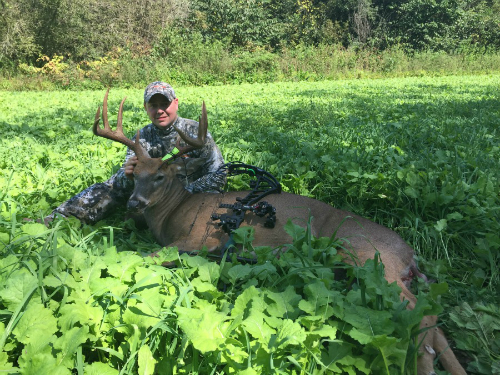 Since I have been using Antler King products my property has held more deer, I have planted numerous Antler King products Honey Hole, Lights Out, Slam Dunk, Fall Winter Spring, and have had great success.  This year Lights Out helped me fill my buck tag on one of my largest animals second day of the Wisconsin archery season…thank you Antler King for your great products!!
John Ford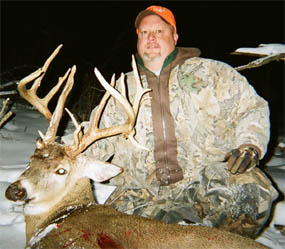 I took this 194 4/8 19 point non-typical in a HONEY HOLE PLOT on Dec. 29. He was one of 6 different bucks in this plot that evening. The amazing thing is that 65 days earlier, in this SAME plot, I harvested a 166 3/8 with my bow . I have had fantastic success with your HONEY HOLE and FALL/WINTER/SPRING BLEND plots. They have deer in them virtually EVERY day during the fall!
Troy Coffey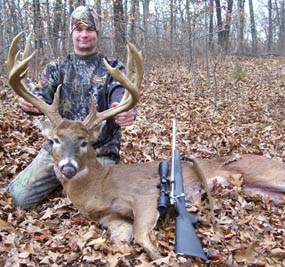 ANTLER KING'S TROPHY DEER MINERAL, HONEY HOLE, and TROPHY CLOVER MIX helped grow, hold, attract, and keep this Booner on my property.
Chris Leathers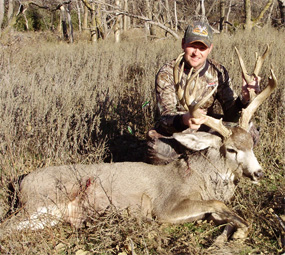 I just wanted to thank you for putting out excellent products. They definitely helped me tag this 198 inch gross score Kansas mule deer. I will continue to use only ANTLER KING products as only the best will do!
Ty Keltner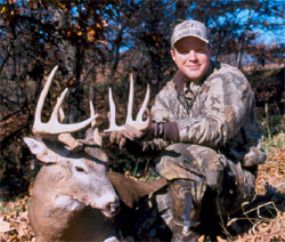 I have been using Antler King Seed Blends for the last five years on my leases in IL and TX. The results we have seen on the quality of antler growth on deer that have grown up on the Antler King Program is amazing. I will never plant anything else. Plant it and you won't be disappointed!
Mark Scroggins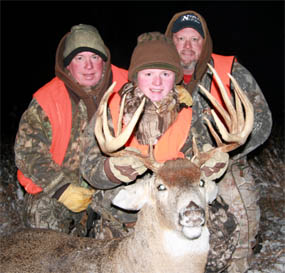 My uncle has been planting ANTLER KING plots for the past few years and it has made a HUGE difference on his land. We see many more mature bucks. Antler King grows big deer and keeps them coming back. I shot this 170+ inch buck while he was in an ANTLER KING HONEY HOLE PLOT.
Cody Edgington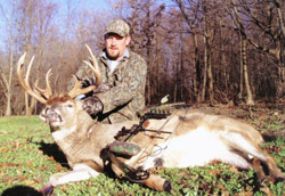 I had experimented with many different seed companies prior to planting "Mini-Max"from Antler King. I was amazed with the growth of this food plot. It was extremely high in nutrition and produced more forage than any other brand I planted. This 18 point buck was produced with help from Antler King. Thanks!
Kevin Bjornsen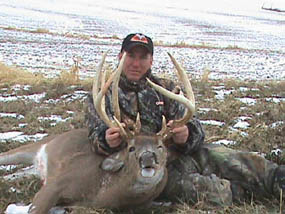 The outfitter I was hunting with uses ONLY ANTLER KING products. There were 6 other bucks with this one and I was able to shoot the 2nd largest. It is pretty evident to me why he sticks with ANTLER KING PRODUCTS!
Jody Scott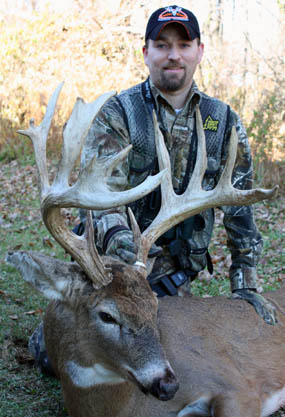 Up until these past few years we struggled to keep mature bucks on the properties we hunt, but Antler King products have changed all of that. We now see bucks staying on the property rather than just passing through. I've yet to find another product that can do that. Thank you, Antler King, for helping me harvest my best buck to date.
Mike Baker
Vice President - BowhuntingOhio.com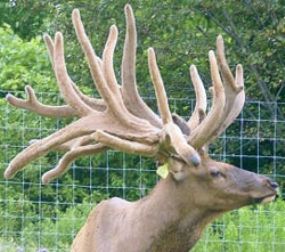 This is a picture of Homer, he is 4 years old and scores over 570 inches (as a 3 year old he scored 443 inches) all measurements have been scored by the North American Elk Breeders trained antler scorers. At Mariah Elk farm we use Antler King Deer and Elk pellets along with Antler King Trophy Deer Mineral. I don't think anyone could argue the results, we are pleased and will continue using your fine products.
UPDATE 4-04-06:
This past weekend Homer's antlers were officially scored by NAEBA measurers and after proper drying time (60+ days) they measured 573 3/8!!!!!!!!!

Mariah Elk Farm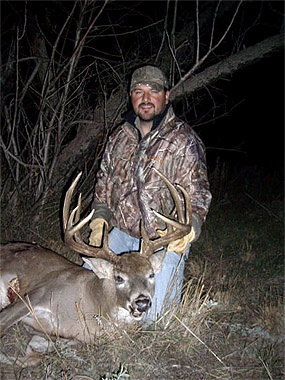 I planted a 1 acre plot of ANTLER KING'S MINI MAX in the tough dry West Texas soil on my property in the summer of 2008. I thought it would take a couple years before the deer would use this plot, but in the fall, I saw more deer in this plot than I've ever seen!. MINI MAX helped draw and hold deer on my property and also harvest this 13 point 162″ buck. This is an unbelievable product and I will be using it from now on!
Cameron McLain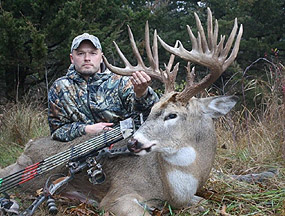 I harvested this magnificent 4.5 year old buck on my 36 acre property while he was standing on the edge of an ANTLER KING TROPHY CLOVER MIX field. I also have photographs of him in an ANTLER KING HONEY HOLE field. He unofficially scored 221 4/8 and grew 65 inches this past year as I have his sheds from the previous year. ANTLER KING products certainly helped this deer reach his genetic potential and I will continue to use ANTLER KING products in the future!
Jerad Dreeszen

This buck literally grew up on Antler King FOOD PLOTS, TROPHY DEER MINERAL, and BLOCKS…….just take one look at the tine length and mass! That's why I exclusively use Antler King products.
Jeremy Putnam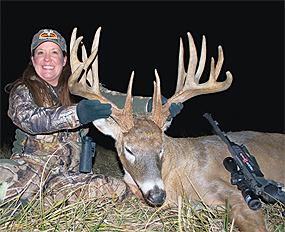 I passed up this buck the previous year as a 3 yr old while feeding in an ANTLER KING FALL/WINTER/SPRING blend plot. Move forward one year and as a result of being on the ANTLER KING MINERAL, BLOCKS, and FOOD PLOT PROGRAM, he put on 40 plus inches of Antler Growth and held tight on this farm and I was able to harvest him in December!
Kandi Kisky