Turning "Tag Soup" into "Venison Soup"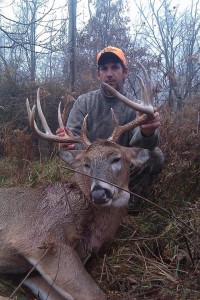 The rut has come and gone, the Holidays are closing in upon us and for many hunters it looks like it will be another year eating "tag soup".  A lot of people spend the late season "singing the blues" and only focus their hunting efforts on hunting the rut, but I've had a lot of success hunting the late season as it's one of my favorite times to hunt here in Illinois and actually a great time to hunt mature bucks.  During the late season most mature bucks are getting back on a routine which makes it easier to pattern them like we typically do in the early season.  With that said, we all need to do our homework because there is a difference between their early season patterns and their late season patterns.
During the typically cold winter days of the late season mature bucks have one thing on their mind…eat as much as possible to increase body weight, gain back what was lost during the rut and store fat reserves for the cold, long winter ahead.  This would make us think that setting your stand location over a food plot would make it easy to harvest a buck…it's not quite that easy, but with my passion for late season hunting and many hours invested in the tree I've learned a few things about late season hunting that might help you turn your "tag soup" into "venison soup".
Tip #1:  One of the best things you can do during the late season to harvest a mature buck is follow the moon.  If you can position yourself over a food plot when the moon peaks near sunset you can increase your chances of success.  This is a great time for daylight feeding and I've found that it's way better to set in a good spot at the right time for a short period of time then in a bad spot during the wrong time for a long period of time.
Tip #2: You need to have your game plan determined ahead of time.  Unlike early season routines, in the late season mature bucks will typically choose a bedding area in close proximity to their preferred food source which can make getting to and from your stand very tricky.  You will want to clear a good path to and from your stand for a quiet entrance and exit so you don't spook a "sleeping giant" on your way into your stand location.  If the wind's not right for your set up stay out, if you bust a mature buck once, you likely won't get a second chance, as he'll head for cover and find another food source and bedding area to call home.  Since a lot of late season sits involve hunting food sources only take what you absolutely need to the stand and leave all the unnecessary stuff behind so you can be as stealthy as possible heading into your location.
Tip #3: Lastly, pick your food source carefully.  Over the last decade food plots have become an important ingredient to holding and harvesting deer on your hunting property, there are all different kinds of seed mixes out there but if you are planting one for late season hunting make sure you plant a good annual mix that offers great nutrition and late season attraction…for me that's Antler King's Honey Hole or Slam Dunk mixes.  Honey Hole is a mix of Turnips and Brassicas and Slam Dunk is a mix of Radishes, Brassicas and Peas.  Both of these mixes offer highly nutritious preferred late season food sources high in digestible energy to provide your herd exactly what they need heading into Winter.  In the Spring and Summer months deer will focus on protein sources (clover and beans) to help grow their bodies' and antlers, whereas in the Fall and Winter that focus will shift to digestible energy so they can gain weight prior to and after the rut and survive the Winter.  Picking the right food can be the difference in late or early season!  If you're hunting leased property or someone else's land adding a small strip of these high energy food plot mixes along an Ag field ( corn, beans ) is a great way to utilize your space effectively and have more late season success.  Both of these mixes can be planted with or without equipment and in the late season if you have food you'll have deer.
I hope these simple, yet effective late season tips help you fill your tag this Winter or at least help you increase your odds of late season success in 2016 by preparing the property you hunt with late season food sources and stand locations.
Have a safe and happy holiday season and good luck during the late season!
Robie Pruitt – Illinois