The Importance of Minerals and How to Establish a Mineral Site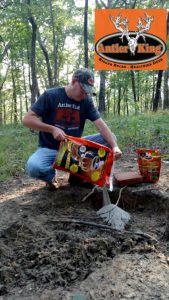 Deer Minerals:
The Importance of and How to Establish a Mineral Site
In today's hunting world more and more hunters are managing their properties to achieve a healthier deer herd and maximize antler growth.  Managing a deer herd on a hunting property is a year round obsession for most outdoorsmen across the country.  There are many important factors a deer will need in its life to achieve overall health and antler growth.  This includes a nutritional food source, water and minerals.  Adding a mineral site to a hunting property is very beneficial to the entire deer family.  A quality mineral program is necessary for a whitetail deer's health.  Minerals are important during the antler development stage in the spring and summer months, but also provide important health benefits on a year round basis.  Also for does, minerals play a role in fetal development, lactation and improved milk production.  When fawns grow older they will be programmed to return to mineral sites that they visited with their mother.  This will help a young deer in its growing stages to build better bone structure and stay healthy.
Getting Started:
When starting a mineral site, locate a well-used trail between a food source and a bedding area…if there is water nearby, that is a plus. This area should be in cover, like a thicket or standing timber, as it makes the deer feel more safe and secure, as they will be feeding with their head down.  Once a perfect spot is located, clear out any debris in a 2 to 3 foot circle with a rake, then dig a shallow hole and loosen up the soil before adding in the mineral.  For best results, I would recommend two 20lb bags of Antler King Trophy deer mineral and two 5lb bags of Antler King Power Rack mineral. Once a site is established, replenish it monthly.  The greatest consumption of mineral will take place from February to September. I recommend keeping mineral available year round for your deer herd.
To learn more about the importance of minerals follow the link below:
https://antlerking.com/why-do-deer-need-minerals/
Jason Buell
Antler King Prostaff – Kansas