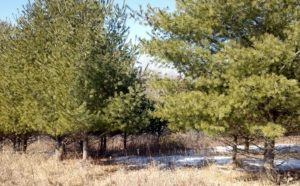 Tips from the Field:
When thinking about planting Plot Screens like our Shield and Bedding Plus or planting trees along roadways here are some things you may want to consider…
I have a ¼ mile of roadway that borders the Southern part of my hunting land.  There are no trees or shrubs to "screen" the fields and food plots from inquisitive eyes, so I decided to plant a number of white spruce trees that will eventually grow tall enough to screen my fields and plots from people shining deer, a potential poacher or passer-by's gawking at the fields, wildlife or property.
I didn't want to plant too close to the highway so that when the trees matured, they may be too close to the road and as a result, I possibly would have to cut them down.  So, I called the County Highway Department and learned that easements vary by who controls the road, (ie a township, village, County, State, or Federal Highway).  It was very surprising  to learn that there was not a uniform "setback" area for all highways.  In my case, this road is kept up by my township.  I called the town chairman who informed me that I had to be at the minimum 35 feet back from the center of the road.  Knowing that I was planting white spruce that could have branches extend 10 feet or more, I decided to plant my row of trees closest to the road at 50 feet from the center of the highway, allowing these trees to branch out as far as they wanted.
If I were to plant some Native grasses, like our Shield and Bedding Plus I probably would have been closer to the road but in this case, even if the grasses were 10 feet tall, the way the road is laid out and built up, I still would not be able to "screen" my property, so I went with trees that I expect will be 20 feet or taller in 10 years.
These are just a few things to consider when determining how and where to "screen" your property, a roadway or a field.  Good luck and enjoy the process.
Todd Stittleburg – Antler King