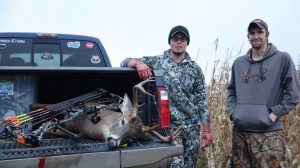 Fall Anticipation
If any of you are like me, the months of anticipation for the upcoming deer season are getting harder and harder to bear.  Maybe you have a specific deer that is encompassing your every thought and trying to strategize how to capitalize on an encounter with that target buck. There are so many things to consider when trying to hold and harvest that one whitetail and hopefully this blog can help relieve some of those decisions.
One of the first decisions in preparation for the upcoming fall that I really focus on when velvet season is in full swing is to inventory what deer are hanging around my property. Now remember, a mature whitetail is not mature for being unwise. If you go in and out of an area too often, you may not see trail cam photos of that specific buck. Limit your amount of access when entering and exiting an area so that your Antler King attractants and minerals do in fact attract your targeted buck in front of that camera. Trophy Deer Mineral and Attract-n-Fuel are my top two products of choice in order to provide necessary calcium, phosphorous, nutrients and  the very important yeast culture. Not only do you provide necessary ingredients to your herd, but also it enhances the overall antler growth, and are highly attractable to draw a target buck in front of your trail camera. The most important concept though is both products help hold deer onto your property.
Secondly, you may be trying to decide what food plot variety to plant in order to attract that targeted buck. Some of you may only have ¼ acre and others may have 4 acres. It doesn't matter the size of the field, but what matters most is what is in the field. If you only have one field around ¼ acre, but could foresee heavy grazing pressure, then something such as Trophy Clover or Small Town Throw Down can be crucial by being able to handle excessive grazing pressure. The one plus of Small Town Throw Down over Trophy Clover is you will have some late season food for your herd such as kale and canola during the colder months of deer season. If you would like to see a food source that can last all fall and winter, then look at either Small Town Throw Down, Slam Dunk, Honey Hole, or Lights Out. All of these food sources provide high amounts of protein during specific times within the initial hunting season. Your decision ultimately will be determined when you consider just a few factors as follows: what part of the country are you in, what are your summer weather conditions like when it comes to humidity and rain, and what type of weather does your fall season consistently have that a particular Antler King blend can withstand.
As an avid whitetail hunter in Virginia, our season does not tend to produce the extreme temperatures like the Midwest are known for.  Just this factor alone narrows my choices in food plot varieties. When it comes to fall plots, I prefer to plant Small Town Throw Down because you get so much variety such as clover, chicory, buckwheat, kale and canola to cover your basis for the entire season whether early or late. I also prefer Slam Dunk because the varieties of radish and rape that grows extremely well for a tall tine tube root plant no matter what the summer weather has to offer. As fall approaches, I will probably even test and mix both of these blends together to try and increase the variety and forage possibility for my herd and especially that targeted buck. I hope that this blog helps you to see the necessary aspects to consider that can make or break the level of success you have this fall.
 Best of luck this season and happy planting!
Hunter Jacobs – Virginia