The Good, the Bad and Ugly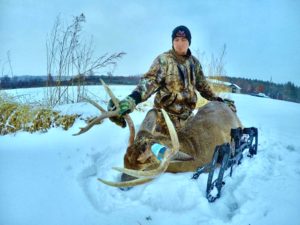 As the 2017-2018 hunting seasons are winding down in all parts of the country a lot of us sit back and reflect on the past season, regardless of the outcome…whether it was the monster buck we shot, the things we learned or dwelling on the things we could have done differently.
I wanted to share some of the lessons I learned this season, hoping I can save someone some pain in the up-coming 2018 season:
2017 started with high hopes, hiking for sheds, planting Antler King food plots, trail cams were being deployed and as the pictures rolled in I was getting more and more excited about opening day.  Like most of you, I was so excited to get out there and chase some big whitetails again.  When season opened I was itching to get in the stand and finally mid-week I crawled up into the tree, finally able to enjoy an evening in the tree stand, didn't shoot a deer that night but a little tree stand therapy is exactly what I needed. I arrived at my lease on October 5th, checked cameras and saw my #2 buck going into a standing corn field that morning (which I figured he was bedding in), I hung a stand that day on the inside edge where the hay field and corn met as it acted as a natural funnel. I did very little trimming as I didn't want to make much noise and figured I had enough areas to shoot.  I went back got the rest of my gear and climbed in.  I wasn't in the stand an hour and I looked up and saw him heading my way.  Of course he decided to come in from behind me and I hadn't trimmed any branches in that direction…panic set in. I calmed myself down and kept my eyes moving looking for him, I finally saw him approaching, I drew my bow, but I had to squat down in order to shoot through a hole in the limbs, I stopped him, released the arrow, CRACK. My gut was in a knot as I watched my arrow smack him in the shoulder. To add insult to injury, I got down and could hear thunder in the distance, rain was coming and I needed to find where he exited the field.  I frantically looked where he had exited the field just as the downpour started. I gained permission to look for him the next day on both neighboring property's and I can honestly say if I slept 2 hours that night, I was lucky.  I kept replaying that shot over and over in my head thinking how could I screw up a 22 yard shot, but I was confident in my equipment and was certain my arrow penetrated enough and that he was down.  The next day we started looking just after day break and within the first valley I spotted him laying below us on a side hill, excitement set in…until he raised his head and looked directly at me.  I kept walking in hopes he would stay put and I could return with my bow to get a finishing shot.  Unfortunately, he got up and headed down the hill.  We continued looking the rest of the day but found nothing.  8 days later he showed back up on camera and seemed to be doing well, minus a flesh wound on his shoulder.
Lets fast forward to OCT 24st, I was in my tree despite some crazy windy weather.  Since activity was sparse I decided to get down and check cameras again.  As I got done and came around the edge of the cornfield I saw a doe get up and behind her all I could see was antlers.  I got a good enough look and knew that deer well since I had a few years history with him, I finished checking cameras and climbed into the stand about 11:30.  It didn't take long to see some little bucks cruising around so I figured that doe was in estrous, which always makes for an entertaining sit!  In that final hour before dark the deer started to funnel out, I saw a lone doe approaching from in front of me, I was also watching one on my right and it didn't take long for them to get up close and personal when I heard the deepest grunt I've ever heard…there he stood in all his glory, with his doe right below me.  I grabbed my bow nice and easy to avoid being detected, he was working right to left and I thought to myself when he gets behind that tree I'm going to draw and once he steps out I got him, well like most big bucks he had other plans and turned around and started coming right at me, I had no shot and he was on my right side and I was still sitting because the does were still below my stand eating acorns.  I was able to shift my body enough to my right and he was at 18 yards working a scrape, I drew my bow, settled down on him, released, he jumped and took off down the ridge. I was excited, I figured I had smoked him, it was getting dark so I crawled down, went over to the scrape looking for my arrow, finally found it, my heart sank it was just laying on top of the ground, I shine my light up at the stand and sure enough I had hit a branch I didn't see and must have deflected.
I hunted the reminder of the rut having encounters with that buck two more times and a few other hit-listers but never could seal the deal. As a hunter, wounding and then missing a deer cuts a guy pretty deep, especially when you've practiced all off season to make sure you capitalized on your opportunities.  Anyone who knows me and those that I shoot with know I shoot pretty well so this really hit home for me. As a result, I took a step back and decided I needed to figure out what was going on with myself before I took the woods with the bow again. I started asking myself questions:  Was I putting too much pressure on myself?  Am I rushing my shots?  You get the hint. In my back yard I was shooting extremely consistent groups but we all know shooting deer is a different story.  Even after all the disappointment the season offered I was still humble and optimistic that I would connect with a late season bruiser.
Gun and muzzleloader seasons came and went, I didn't hunt very much because I felt I needed to prove myself with the stick and string. I kept checking my cameras hoping something big was going to show up. No cold temps, no snow and it sure wasn't looking good. I got to thinking my North Dakota tag was still open and they already had snow, my buddy wanted to make a trip out there to do some more scouting for next season and pull the cameras we had out there, so I asked if he would help me out on some areas and stop by the landowner's house where we had permission to hunt and of course he said he would.  My late season plan was set into motion and I knew I was going to have a week off around Christmas time so I planned on heading out there to make it happen. Brutally cold temps hit right around that time with double digit below zero temps, without the wind chill. I knew this was going to challenge me physically and mentally, but this could be the challenge I needed to knock me out of my funk. Just after everyone went to bed on Christmas night I headed to ND with high hopes, but plenty of uncertainty.
I arrived at the first property around 10:30am, snuck in pulled the card and snuck out.  I had my heart set on hunting a different property the first night, since it was going to be the coldest night of the trip. I climbed into the blind around 12:20 got settled in got into my iWom and started going through pictures, it didn't take long for me to start kicking myself. The first spot I checked had 3 shooters coming past every day…on the card where I was currently sitting I had some decent deer, but nothing consistent.  But I remained optimistic that with this weather anything could happen.  With the cold temps, as suspected deer started showing up.  First a doe and 2 fawns, then a lone doe, then a big buck was behind her standing in the tree line and with him out filtered 6 more bucks, I had just looked at my phone and the windchill was -31. The big buck was just standing back surveying the surroundings and sniffing the air, I slowly reached for my bow without taking my eyes off him, I was in position.  Then he finally committed, I wasn't going to take the chance of ranging him, as I knew the tree in front of him was 23 yards, he took a step away from me I drew my bow, settled and touched the release and the arrow hit it's mark.  With the season I'd been having, naturally doubt set in as I second guessed shot placement, etc. so I decided to get a second opinion.  I called my good friend Jon, as he was the one who helped me out with all this and told him the situation. He advised me to not leave him overnight with all the coyotes around and the landowner advised the same.  At 10:00 pm I headed back out, picked up the blood trail, followed it about 150 yards to a patch of woods, as I entered the woods I found a bed, and then another.  At this point worry begins to set in, but I k ept on the trail for another 30 yards and there he was laying on the side of a ditch, I was so filled with emotion, it was a bittersweet feeling, to harvest that buck on the first night in ND. I was super pumped but I couldn't have done it without the landowner and my buddy Jon.
I stayed with it, I kept pushing myself to make it happen, I stayed positive throughout the season, I also stayed humble and I stayed persistent. I had one of the worst, best seasons ever. I learned more about big bucks and myself this season despite all the mistakes I made.  As whitetail hunters we never stop learning and we never stop challenging ourselves.
I did learn a few things along the way: 1)  Cut shooting lanes and always trim a little extra, even if you don't think it's necessary  2) Always stay humble  3) When tracking, always bring your bow even if you think the deer has expired 4) Don't put too much pressure on yourself just go out there and do what's got to be done and lastly  5) Never give up.
I hope you enjoy reading this and hope you have a great 2018 season!
Jeremy Berlin – Wisconsin